A WORKLOAD ANALYSIS USING POWER RADIOGRAPHER WORKLOAD INDICATORS NEED STAFF (WISN) IN THE INSTALLATION OF RADIOLOGY UNIVERSITY HOSPITAL SEBELAS MARET SURAKARTA
Analisa Tanggung Jawab Radiografer Menggunakan Metode Workload Indicator Staffing Needs (WISN)
Keywords:
Radiographer, Workload, Workload indicator of Staffing Need
Abstract
Analisis tanggung jawab radiografer Sangat penting untuk mengembangkan lebih lanjut manfaat radiologi di klinik darurat. Hal ini dimaksudkan untuk mengetahui pekerjaan mana yang membutuhkan produktivitas. Workload indicators of staffing need (WISN) merupakan sebuah standar pengukuran  kebutuhan tenaga Kesehatan berdasarkan  indikator  beban kerja  Strategi ini adalah teknik komputasi yang membuat garis besar tanggung jawab seperti halnya jumlah kebutuhan aset manusia yang bergantung pada latihan item di kelas. sumber daya manusia. Penelitian ini untuk mengetahui gambaran beban kerja petugas radiografer menggunakan metode WISN. Observasi ini menggunakan pendekatan kuantitatif deskriptif dengan pendekatan survey. Di Instalasi Radiologi RS UNS jumlah waktu kerja tersedia dari kegiatan kerja setiap hari dan jumlah hari libur dalam setahun 120 menit per tahun dimana jumlah waktu kerja yang tersedia yang didapatkan sudah sesuai sesuai dengan standar waktu kerja di Rumah Sakit UNS. Beban kerja yang didaptkan 260 hari per tahun dan rata-rata waktu yang dibutuhkan untuk menangani pasien 5-10 menit untuk pasien konven dan Ct-Scan dan untuk kontras 30-1 jam tergantung pemeriksaan dan waktu kerja dalam sehari 7-8 jam. Standar beban kerja 2000 jam per tahun dan untuk menentukan standar kelonggaran 75(1 jam 15 menit per orang) dan untuk memastikan SDM per unit kerja 2,25. hasil yang diperoleh melalui metode workload indicators staffing needs (WISN) sudah sesuai dengan standar pelayanan radiologi diagnostik menurut Kepmenkes No. 1014 Tahun 2008 yang menerangkan bahwa perbandingan 1 modalitas pesawat diagnostik untuk 2 orang radiografer.
Downloads
Download data is not yet available.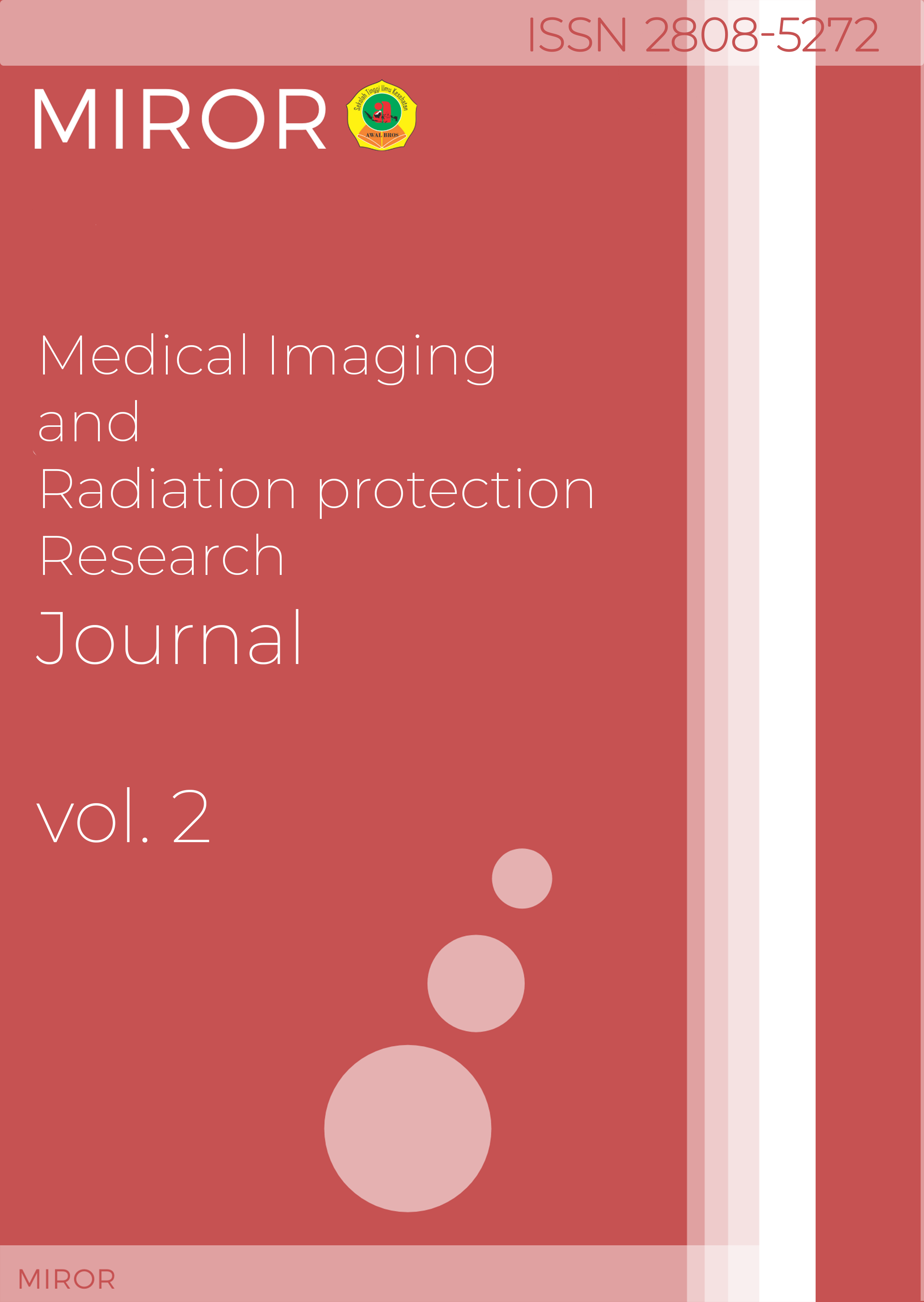 Downloads
How to Cite
Arifah, S. (2022). A WORKLOAD ANALYSIS USING POWER RADIOGRAPHER WORKLOAD INDICATORS NEED STAFF (WISN) IN THE INSTALLATION OF RADIOLOGY UNIVERSITY HOSPITAL SEBELAS MARET SURAKARTA: Analisa Tanggung Jawab Radiografer Menggunakan Metode Workload Indicator Staffing Needs (WISN) . Medical Imaging and Radiation Protection Research (MIROR) Journal, 2(1), 7–12. https://doi.org/10.54973/miror.v2i1.203
License
Copyright (c) 2022 Siti Arifah
This work is licensed under a Creative Commons Attribution-NonCommercial 4.0 International License.