THE EFFECT OF HUMAN RESOURCE RECRUITMENT SYSTEM IN IMPROVING EMPLOYEE PERFORMANCE IN THE ADMINISTRATIVE UNIT OF AWAL BROS PANAM HOSPITAL
Keywords:
Effect of Recruitment System, Human Resources, Administrative Unit
Abstract
The hospital is one of the institutions that provide health services, this health service itself cannot be separated from the hospital administration. The administration section is a supporter in terms of decision making, activities in the administration of a hospital have a huge influence on the success or failure of a hospital. The influence of the human resource recruitment system in the Administration Unit greatly affects employee performance. The better the recruited employees, the better the performance provided. To get quality human resources, a good recruitment system is needed in order to produce quality resources as well. This study aims to determine the effect of the existing human resource recruitment system in the initial hospital bros panam.
This type of research is qualitative with an analytical descriptive approach. There were 6 informants in this study and this study used the Rapid Assessment Procedures (RAP) model. This research was conducted on September 29 – October 18, 2022 at Awal Bros Panam Hospital.
The results of the study found that there was still a lack of human resources in the administrative unit of the early bros panam hospital, there was no special SIMRS training in the administrative unit, besides that compensation also affected the performance of employees. And in recruiting new hospital employees it is in accordance with the SOP that has been set.
It is recommended to add employees in the administrative unit, provide special SIMRS training in the administrative unit for employees who graduate from hospital administration and provide a special room for recruitment and provide written tests so that test results can be obtained quickly.
Downloads
Download data is not yet available.
References
Apriyanti, D. (2021). Analisis rekrutmen sumber daya manusia dalam meningkatkan kinerja karyawan pada pt.catur pilar makmur sejahtera focal point medan. Skripsi strata satu, Universitas Sumatera Utara, Medan
Hardiyanti, P.N. (2019). Pelaksanaan rekrutmen dan seleksi karyawan pada rumah sakit roemani muhammadiyah semarang. Skripsi strata satu, Universitas Semarang, Semarang.
Kurniawan, D. (2017). Pengaruh sistem rekrutmen dan penempatan kerja terhadap kinerja pegawai pada rumah sakit umum haji medan. Skripsi strata satu, Universitas Sumatera Utara, Medan
Moleong, Lexy J. (2017). Metode Penelitian Kualitatif, cetakan ke-36, Bandung : PT Remaja Rosdakarya Offset.
Permenkes No 340/MENKES/PER/III/2010. Tentang Ketenagaan Rumah Sakit
Ruslanto. (2018). Pengaruh rekrutmen dan pelatiha terhadap kinerja karyawan pada manajemen sumber daya manusia bidang perawatan pada rumah sakit islam faisal makassar. Skripsi strata satu, Universitas Muhammadiyah Makassar, Makassar
Sugiyono. 2017. Metodologi Penelitian Kuantitatif, Kualitatif dan R & D, Bandung: Alfabeta cv
Undang-Undang Republik Indonesia No 36 Tahun 2009 Tentang Kesehatan
Undang-undang Republik Indonesia No 44 Tahun 2009 Tentang Rumah Sakit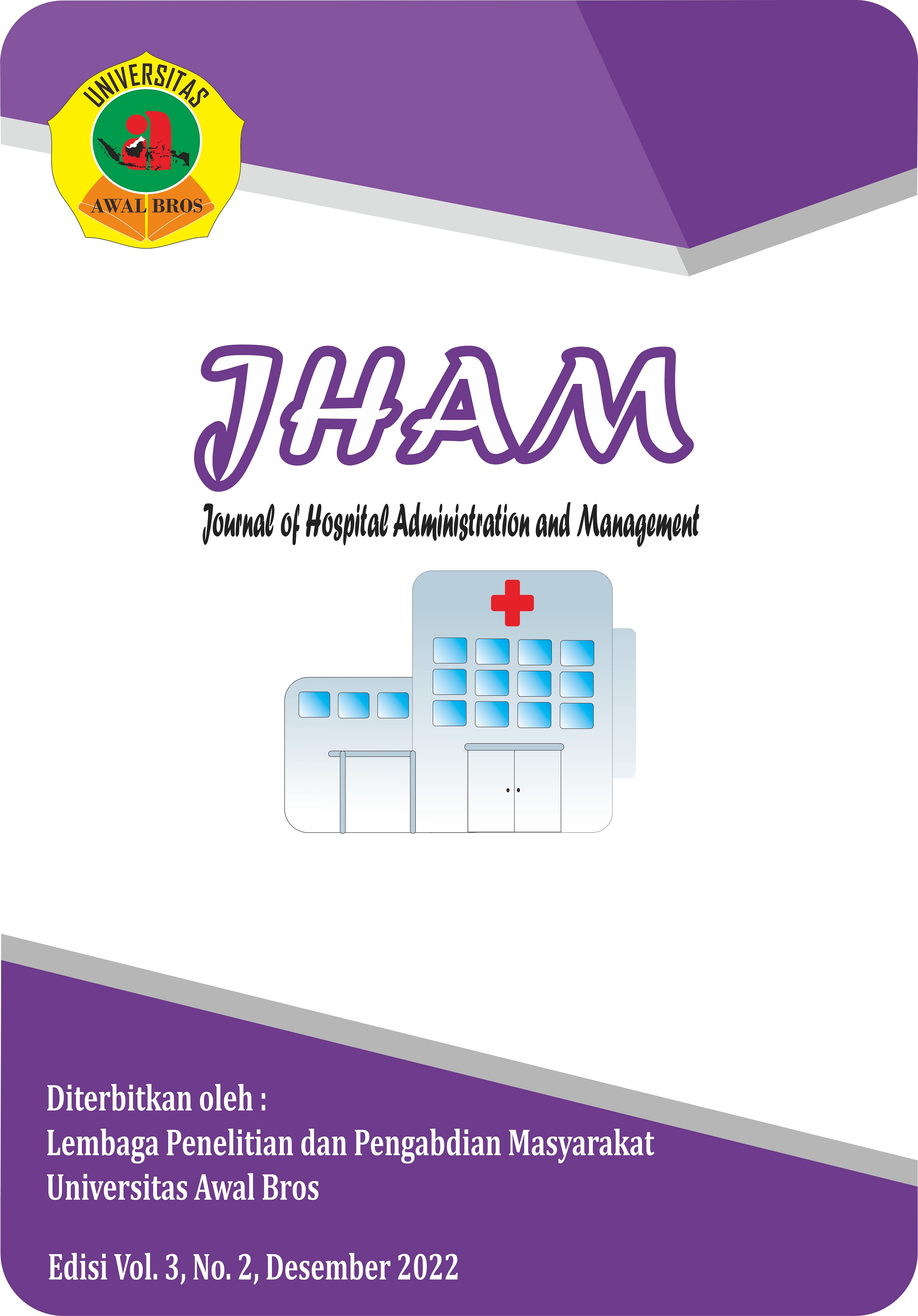 Downloads
How to Cite
Wulandari, A., Suryandartiwi, W., & Yuliana, A. S. (2022). THE EFFECT OF HUMAN RESOURCE RECRUITMENT SYSTEM IN IMPROVING EMPLOYEE PERFORMANCE IN THE ADMINISTRATIVE UNIT OF AWAL BROS PANAM HOSPITAL. Journal of Hospital Administration and Management (JHAM), 3(2), 9–18. https://doi.org/10.54973/jham.v3i2.288