ANALYSIS OF QUALITY OF BPJS BANGKINANG OFFICE SERVICES FOR THE PEOPLE OF RUMBIO VILLAGE KAMPAR REGENCY
Keywords:
quality, service, BPJS, IPA
Abstract
The health social security organizing agency (BPJS) is a public legal entity that serves to organize health insurance programs, social security participants consist of our assistance participants (PBI) consisting of poor and unable families, non-PBI group participants or participants from askes transition and independent participants.  BPJS is an institution formed to organize social security programs in Indonesia by Law No. 40 of 2004 on National Social Security and Law No. 24 of 2011 concerning social security organizing agencies. BPJS replaces several social security institutions in Indonesia with BPJS Kesehatan and BPJS Employment. (3). Health Social Security Organizing Agency (BPJS) Regulation No.1 of 2014 concerning the Implementation of Health Insurance mentioned that health insurance is a guarantee in the form of health protection so that participants get health maintenance benefits and protection in meeting basic health needs provided to everyone who has paid dues or dues paid by the government.  The purpose of this study is to find out how the quality of bpjs office services bangkinang, know the factors and variables that must be improved and that must be maintained. The data was obtained using questionnaires as a data collection tool. The dimensions used to arrange the instrument are the dimensions that determine the quality of service consisting of 5 dimensions, namely: 1. Tangibel 2. Reliability 3. Responsiveness 4. Assurance 5. Empathy. There were 81 people in rumbio village. The research method used is importance-performance analysis, The purpose of this study is to analyze the quality of bpjs bangkinang office services. The benefit of this research is to be material to realize better bpjs office services. Based on the results of the collection, processing, and analysis of data that has been done there is no top priority, there is low priority, which is maintained and excessive
Downloads
Download data is not yet available.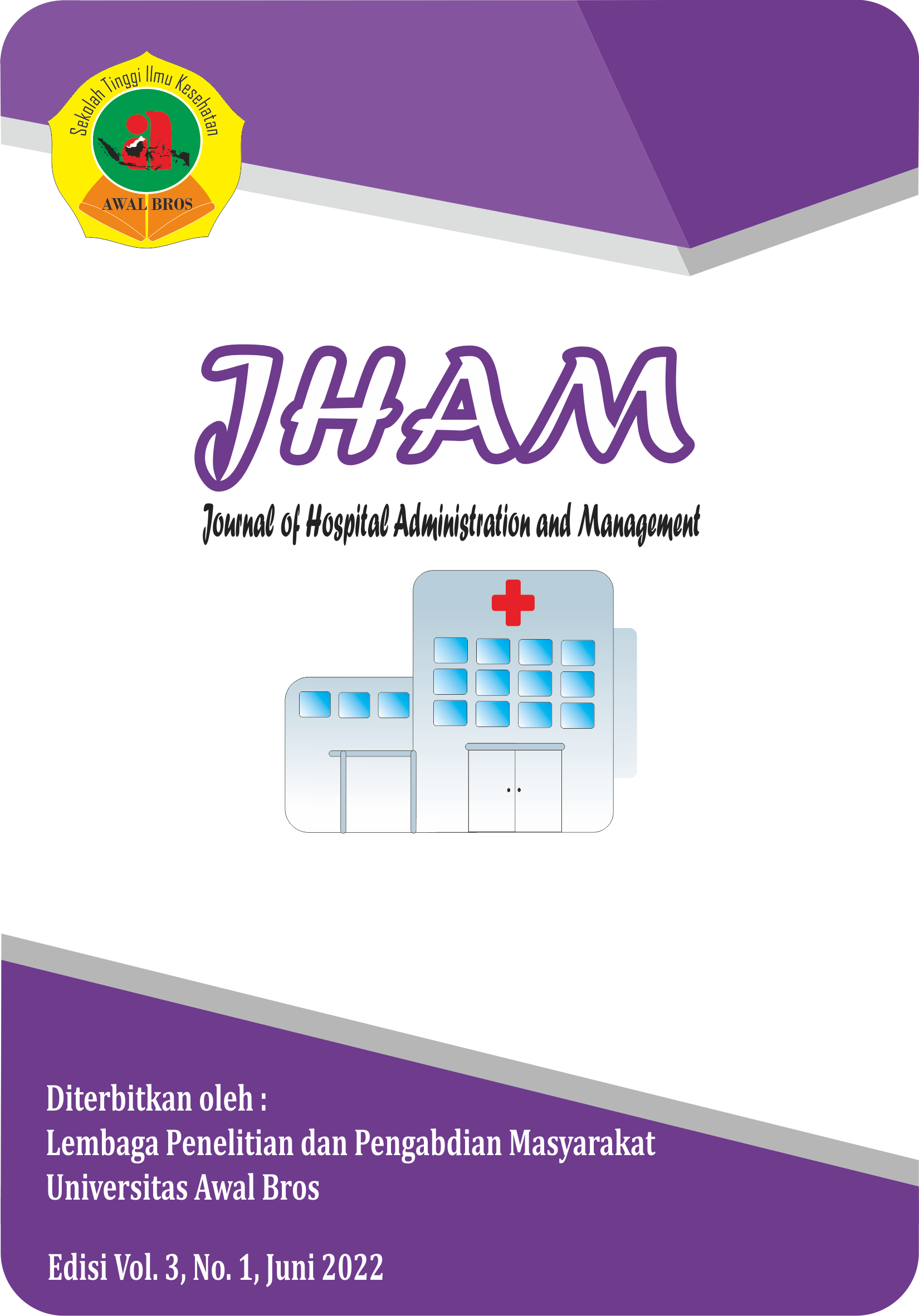 Downloads
How to Cite
ayu, R., & Angella, S. (2022). ANALYSIS OF QUALITY OF BPJS BANGKINANG OFFICE SERVICES FOR THE PEOPLE OF RUMBIO VILLAGE KAMPAR REGENCY. Journal of Hospital Administration and Management, 3(1), 28–33. Retrieved from https://journal.univawalbros.ac.id/index.php/jham/article/view/214