THE QUALITY ANALYSIS OF COVID-19 VACCINATION SERVICES ON SATISFACTION OF VACCINATION PARTICIPANTS AT PUSKESMAS LIRIK, INDRAGIRI HULU
Keywords:
Vaccination, Service quality, Patient Satisfaction
Abstract
In Indonesia, the implementation of vaccination has been carried out according to presidential instructions through Presidential Decree No. At Pukesmas Lirik Indragiri Hulu Regency, the implementation of the Covid-19 vaccination has been carried out, but there are still complaints about the registration flow, waiting room, queues that are not in accordance with arrivals and have not prioritized the elderly in queues and post-vaccination administration that is not in line with the queue. The purpose of the study was to determine the performance of officers, the level of satisfaction of Covid-19 vaccination patients, and the effect of service quality and patient satisfaction.
This research uses quantitative research with descriptive method, conducted at Puskeamas Lirik Indragiri Hulu Regency with 98 respondents, namely patients who have vaccinated adults 26-45 years. The research was carried out by observation, data collection, and questionnaires. Data analysis in this study used univariate analysis, bivariate analysis, validity test, reliability test, normality test, and linearity test. Data processing using SPSS 16.0 data processing application.
The results obtained based on the data processing in this study indicate that the quality of service has a positive and significant effect on patient satisfaction which is strengthened by the test results which show that it is supported by the linearity test which produces a linearity significance value of 0.000 < 0.05 obtained from data processing through the application SPSS 16.0 .
Downloads
Download data is not yet available.
References
Al-Ani, M. S., & Al-Ani, D. M. (2020). Review Study on Sciencedirect Library Based on Coronavirus Covid-19. UHD Journal of Science and Technology, 4(2), 46–55. https://doi.org/10.21928/uhdjst.v4n2y2020.pp46-55
Hatiningtiya, Bunga Rizki; Iskandar, D. (2016). Analisis Kepuasan Pasien Terhadap Kualitas Pelayanan Jasa Kesehatan Di RS MH Thamrin Purwakarta.
Hayaza, T. Y. (2012). Analisis Kepuasan Pasien terhadap Kualitas Pelayanan Kamar Obat di Puskesmas Surabaya Utara. Jurnal Ilmiah Mahasiswa Universitas Surabaya, 2(2), 1–13.
Hidayat. (2014). Kerangka konsep dan hipotesis penelitian
Kepmenpan No. 63 Tahun 2003 tentang Pedoman Umum Penyelenggaraan Pelayanan Publik
Kotler, Philip, et al. 2012. Manajemen pemasaran Perspektif Asia. Buku Dua. Edisi Pertama. Yogyakarta: Andy.
Perpres. (2020). Perpres No. 99 Tahun 2020 Tentang Pengadaan Vaksin dan Pelaksanaan Vaksinasi Dalam Rangka Penanggulangan Pandemi COVID-19.
Rahmani, N. (2016) . Metodologi Penelitian Ekonomi. Medan: FEBI UINSU Press.
Rosa, Vika. (2019). Analisis Kualitas Pelayanan Terhadap Kepuasan Pasien di Puskesmas Bulukunyi Kabupaten Takalar.
Sasmita, R. D. (2021). Tingkat Kepuasan Orangtua Terhadap Pelayanan Imunisasi Pada Masa Pandemi Covid-19 DI Puskesmas Kandangan KabupatenTemanggung.
Sinurat, J., & Zulkarnain, A. K. (2017). Analisis Kepuasan Pasien Terhadap Kualitas Pelayanan Di Bangsal Hemodialisis Rs. Pku Muhammadiyah Yogyakarta. Majalah Farmaseutik, 10(1), 192–196. https://jurnal.ugm.ac.id/majalahfarmaseutik/article/view/24112
Sugiyono. 2022. Metode Penelitian Kuantitatif, Kualitatif Dan R&D. Bandung: Alfabeta
Teuku Aliansyah, Hafasnuddin, S. (2012). Pengaruh Dimensi Kualitas Pelayanan Terhadap Kepuasan Nasabah Bank Aceh Syariah Cabang Banda Aceh. Jurnal Manajemen Pascasarjana Universitas Syiah Kuala, 1(1), 32–39.
Tjiptono, F., & Chandra, G. (2016). Service, Quality & Satisfaction Edisi Empat. Yogyakarta: Andi Offset.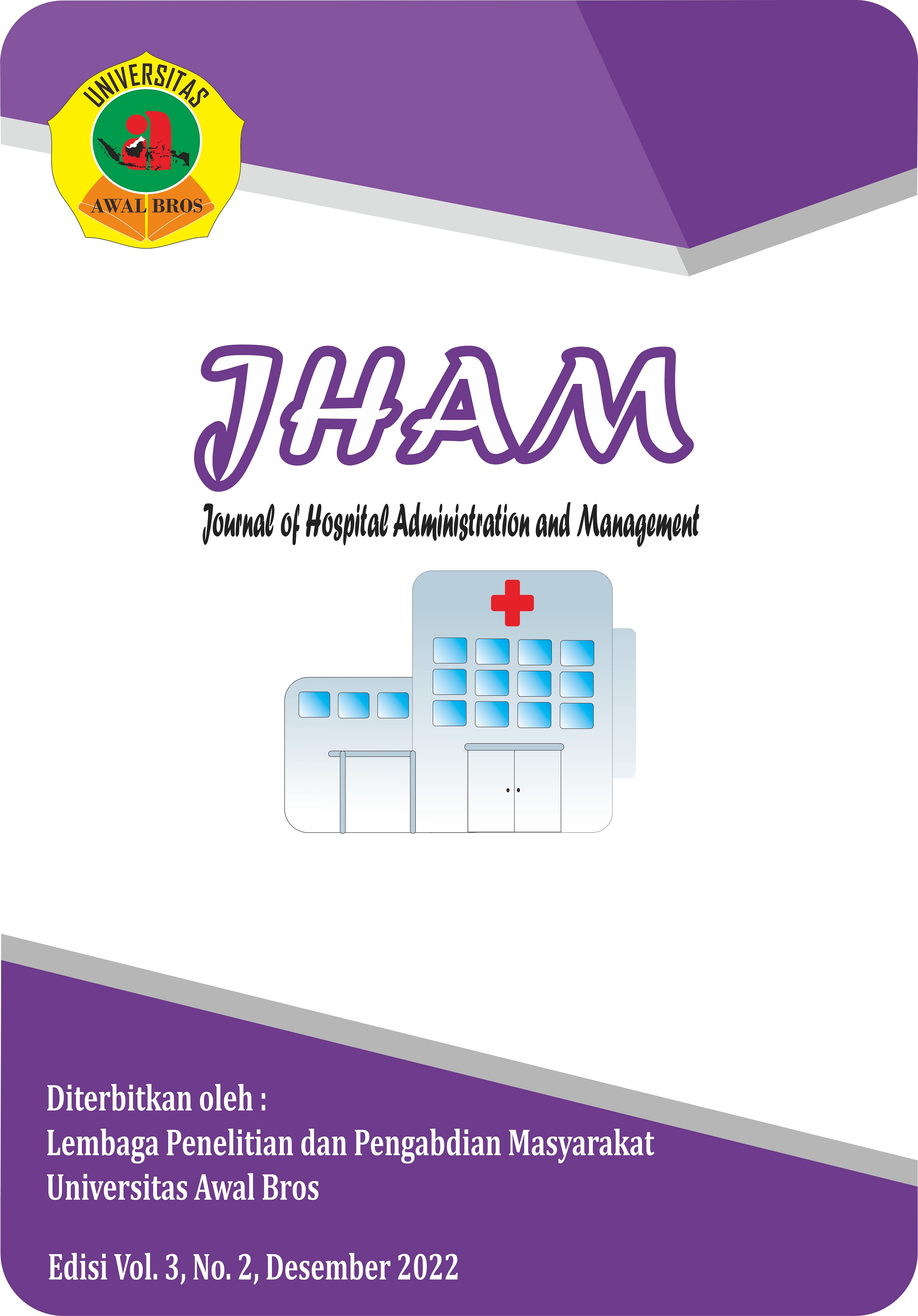 Downloads
How to Cite
Natasya, H. Z. ., Handoko, B. ., & Tonis, M. (2022). THE QUALITY ANALYSIS OF COVID-19 VACCINATION SERVICES ON SATISFACTION OF VACCINATION PARTICIPANTS AT PUSKESMAS LIRIK, INDRAGIRI HULU. Journal of Hospital Administration and Management (JHAM), 3(2), 19–29. https://doi.org/10.54973/jham.v3i2.281